Polka Dot Pound Cake
Christmas Menu 2022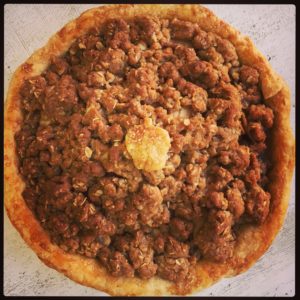 All orders must be placed and paid in advance by 1pm December 18th for Christmas Eve pick up.
Holiday Hours
Monday December 19th – Thursday December 22nd    7am – 5pm
CLOSED FRIDAY DECEMBER 23rd
…so the Elves can bake!
Open  Christmas Eve   7am-3pm
    apple crumb pie 24.       apple cranberry pie 25.
    apple cheese tart 25.     pumpkin cheese tart 25.
pumpkin pie 23.       flourless chocolate ganache cake 25.00
our pound cake loaves 8. 
Christmas Pound Cake
lemon    vanilla    vanilla chip   apple streusel   cinnamon crumb
marble crumb       blueberry cinnamon crumb    orange cranberry    funfetti crumb
large pound cake 18.00
          Cinnamon Crumb                Christmas Funfetti  Crumb               Norwegian Christmas Cake
Marble Crumb with Peppermint glaze                    Cranberry White Chocolate with Vanilla Glaze
 muffins
                                                             apple      blueberry    marble
 croissants      scones
chocolate chip cookies      linzers     jam thumbprint
buttercream sandwich cookies        snickerdoodles
cake and cookie platters
hostess and corporate gifts
gentle brew coffee      serendipiTEA
find lovely gifts in our retail area
Bakery Hours
 Open 7 days!
Monday-Saturday 7-5       Sunday  7-1
order today ~ 516.544.(CAKE)2253
                                          **Closed  December 23rd for baking production day**