Holiday  Menu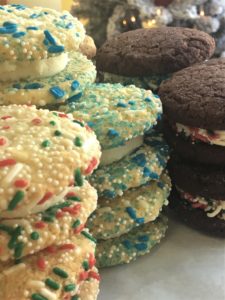 Pies 22.    Tarts 24.
APPLE CRUMB PIE        APPLE CHEESE TART
FLOURLESS DARK CHOCOLATE GANACHE CAKE  24.
APPLE CRANBERRY PIE
NORWEGIAN CHRISTMAS CAKE
              Our moist vanilla pound cake with Golden raisins, Craisins, and a hint of Cardamom spice make this a December favorite
SPRINKLE CRUMB CAKE
                   Our Vanilla pound cake is " sprinkled" with seasonal sprinkles and topped with our crumb cake crumbs!
       VANILLA POUND CAKE
VANILLA CHIP POUND CAKE         LEMON POUND CAKE
ORANGE CRANBERRY POUND CAKE           ALMOND POUND CAKE
  APPLE SPICE CAKE          DECADENT CHOCOLATE CAKE
  BANANA BREAD       CHOCOLATE CHIP BANANA BREAD
CRUMB CAKE                  APPLE CRUMB MUFFINS             ORANGE CRANBERRY MUFFINS
       CROISSANTS
  Classic      Raspberry     Almond
      SCONES
                                                                     Cranberry Orange
          OATMEAL COOKIES
                             CHOCOLATE CHIP COOKIES                           JAM THUMBPRINT
BUTTERCREAM SANDWICH COOKIES           SNICKERDOODLES
                                                                              LINZERS
We offer the classic raspberry linzer and seasonal shaped linzers this month
COOKIE DECORATING KITS 20.00
CAKE AND COOKIE PLATTERS
Gifts for everyone on your list
Gift cards available
OPEN DAILY THROUGH CHRISTMAS EVE
ORDER TODAY 516.544.2253